Contact
Greenwood Retail Limited
11 Grammar School Road,
Lymm,
Cheshire,
WA13 0BQ
Telephone: 07771 700247
Email: sales@greenwoodretail.com
To receive our information pack simply complete the form below.
Please include your full postal address in the comments box.
Free Marketing Bulletins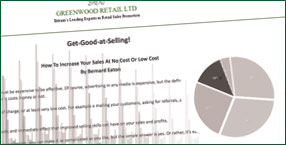 Join Greenwood's Marketing Newsletter to receive regular valuable sales and marketing tips on how you can win market share, increase sales and make more profit for your business. Enter your details below to receive your first FREE tips in minutes.